Bourtzi
Only a 5 minute boatride away will bring you to the famous castle island of Bourtzi.
One of the added benefits is the view of the city from the island.
We definetily recommend seeing it.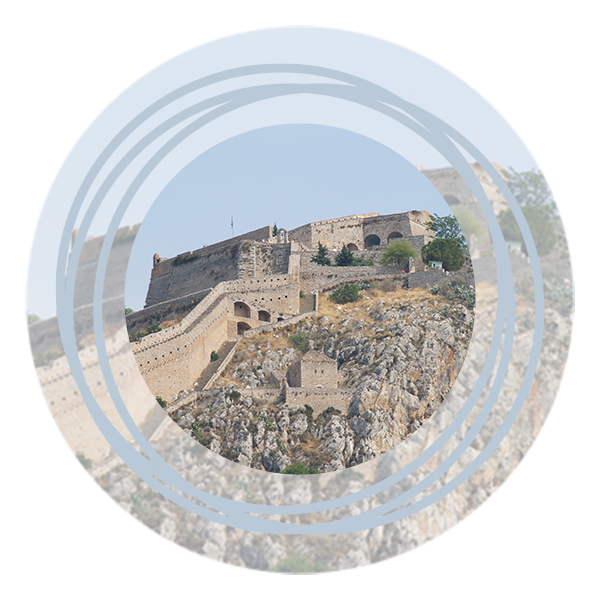 Palamidi
Palamidi is always seen from the town of Nafplio. Hovering over its citizens and visitors reminding them of the older times this city has seen.
Try to get up there one day, either by foot using the famous 999 stone steps, or taking a vehicle from the road in the back.
Either way there is a great castle to see along with the majestic high view.
Old town
The old town of Nafplio is always around you. Take a step in either direction and you are bound to see artifacts from that era.
During the day dont hesitate to have an iced coffee in of the exciting cafes the old town has to offer, but even more magical at night make sure to stop by again for dinner or drinks.
Ancient Epidaurus
Within a half hour drive you can visit ancient Epidaurus with its grand theater. One of the best preserved theaters of the era with acoustics that still work today. In the summer you can actually witness an ancient drama perfomance depending on the dates.
Mycenae
Very close to Nafplio – just outside the adjacent town of Argos – we would recommend visitng Mycenae. Even today researchers are still studying – Harvard being one of them to continue excavations in the area. The tomb of Agamemnon and the lion's gate still dominate the area.
Ancient Theater of Argos
In the nearby town of Argos remains one of the beautiful theaters of the Hellenistic period. In addition to the ancient theater of Epidaurus, you can  also visit the one in Argos which is actually nearby. Having already seen the theater of Epidavros, it will be a pleasant surprise to discover another one.